A Guide to Choosing your Perfect Horse or Pony
Having owned my own horse for 15 years, which seems like a lifetime, I've never had any experience of all the potential pitfalls that go with finding a horse or pony from scratch. And, although I'd recently lost her, I wasn't ready to look for another one yet, but my friend had been umming and ahhing about this very subject for ages now. So when I saw this course advertised in the DASH magazine, it sounded ideal. We decided to go together as two heads are supposed to be better than one and I hoped it would give me some useful information and a bit of confidence to help her with her selection. (And it also meant I could get a bit of a 'pony fix' - and have a good old sniff! - one of the things I miss the most is the wonderfull smell of my horse!)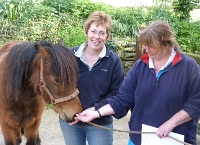 Faye was brilliant and made even the simplest question seem worthy of discussion. She was very knowledgable and obviously passionate about her subject - horse welfare and rehabilitation. With this in mind she was keen that anyone thinking of buying a horse or pony should be armed with as much knowledge as possible, so that the right choice could be made for both the potential owner and the horse itself.
We spent the morning going through Faye's comprehensive handout - which was a useful reminder that we could take home with us. We discussed where to look for a potential horse or pony and the sort of questions we should be asking, both during the initial phone call and also at the actual viewing. A lot of it was such common sense that you wouldnt necessarily think to ask about it. And it made me realise just how important some of the simple questions were, to give an overall picture of the horse or pony's health, condition, welfare and potential - both good and bad. A particular problem may not necessarily mean a bad horse, but it does give you an awareness of any issues and enables you to consider whether this is acceptable to you, or something you might be prepared to manage if everything else was ok. We also discussed how to look at the practical things at a viewing - things to look for with the horse itself - not just physically but its temperament and behaviour. Also, it's surroundings, stable and interaction with other horses and with people.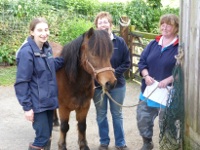 Then, after lunch, we went outside to try and put some of this theory into practice. We looked at three ponies, all with different characteristics. And Faye helped us identify certain things and encouraged us to make our own observations and come to our own conclusions. This was really useful - as no amount of theory can take the place of actually handling the horse or pony and doing your own practical assessment.
This was an excellent course, with an excellent tutor. I feel happier about accompanying my friend to any potential viewings as I now have a comprehensive check list of questions and the confidence to ask them of any potential seller. I realise that if we dont ask the questions, then we wont get the information we need to make the right decisions. And just think of all those opportunities I will have to sniff some more horses and ponies!!!